Eyetamins
Regular price
$64.00 USD
Sale price
$54.95 USD
Unit price
per
Sale
Sold out
(Ships from Florida USA and Geelong Australia)
Ophthalmologist-Formulated & Backed by Science: 
Eyetamins is the first natural eye care supplement to directly address the needs of the modern-day. 
Nature Created, Doctor Perfected: The Sea Berry Dry Eye Supplement is a patent-pending alternative to eye drops by Eyetamins, formulated for those who suffer from dry eye and associated dry skin, dry mouth, or vaginal dryness.
Benefits:
Sea Berry is packed with vegan omega 3, 6, 7, and 9 to help moisturize and soothe. It helps with eye discomfort, tired eyes, eye strain, and eye fatigue. Includes 60 vegan soft gels.
Ingredients:
Super Nutrients Galore:
Made from Himalayan Sea Buckthorn oil with over 190 bioactive super nutrients that support eye, skin, and mouth hydration.
USDA Organic, vegan, and non-GMO.
Nourish Your Eyes Naturally from Within: Formulated with Himalayan Sea Buckthorn, found in centuries-old medicinal texts in Tibet and Asia.
Himalayan Sea Buckthorn contains antioxidant power 70x stronger than Vitamin C. Plant-Based and Natural:
Eyetamins are made with the best natural ingredients to support your eye health at every age.
Our products are free of synthetic additives, artificial colors, and banned substances. GMP certified.
Contains no gluten, soy, eggs, fish products, dairy, peanuts, tree nuts, wheat, or other allergens.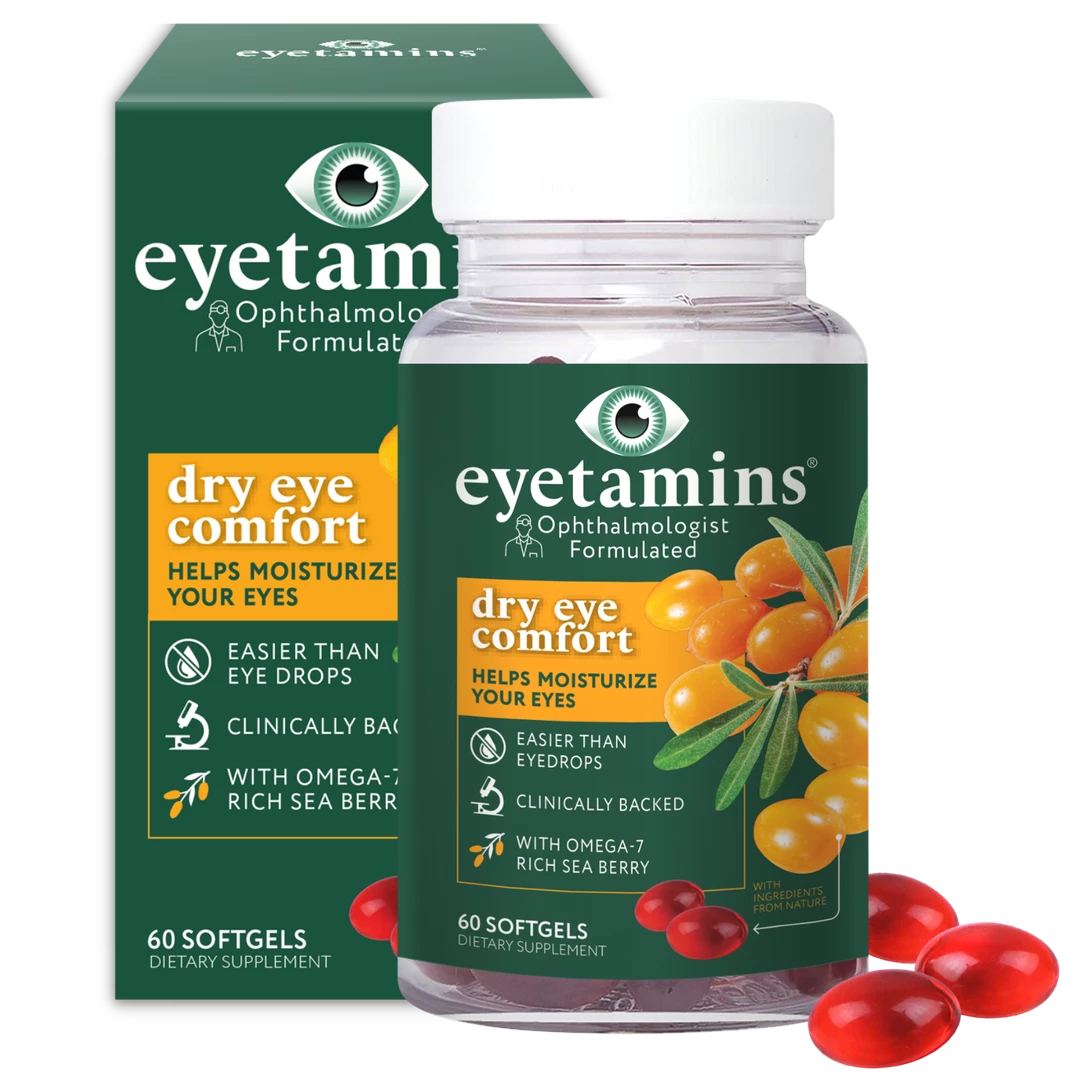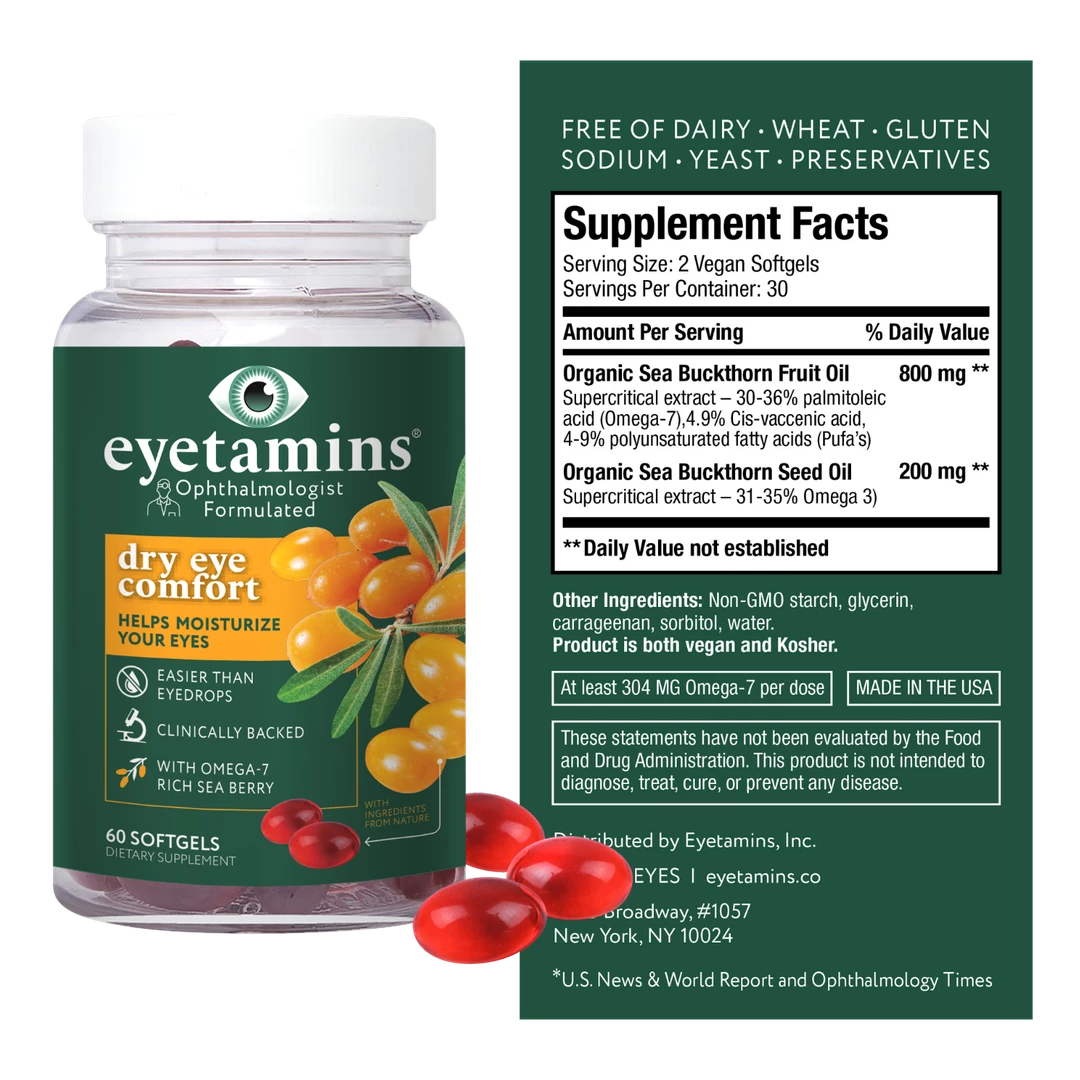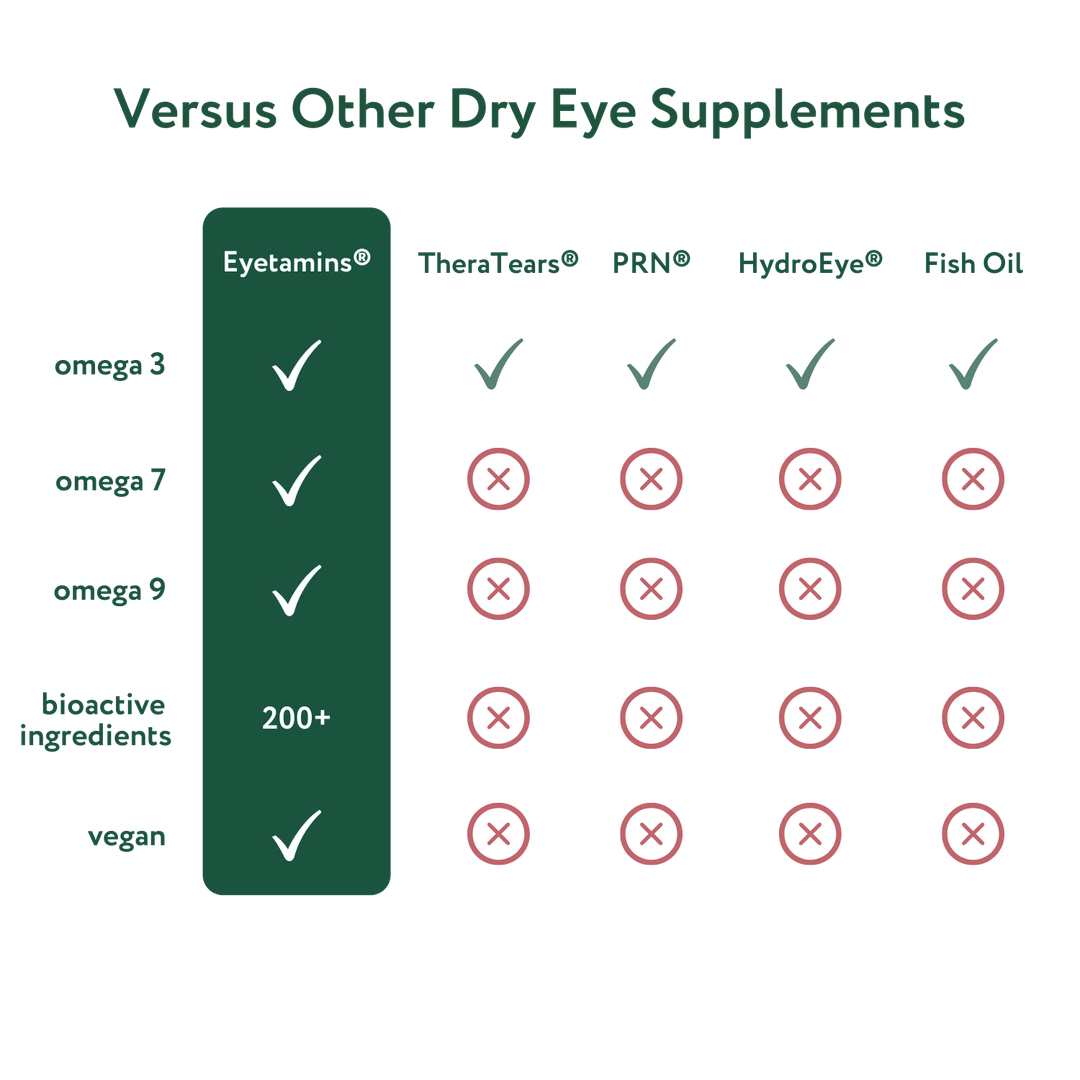 Customer Reviews
01/25/2023
Yolande S.

Australia
Eyetamins
I have used Eyetamins for 14 days and feel that my eyes are more comfortable since taking them. So far I have not had to use eye drops as much!
01/25/2023
Dr Leigh Plowman
Thank you very much for sharing, Yolande! We're excited for you!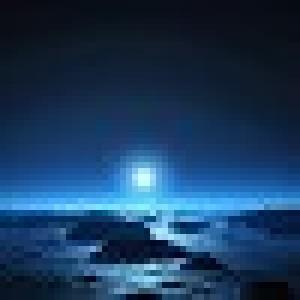 AM
01/03/2023
Anne M.

United States
Inflammation reduced
Sea berry was recommended to me to battle inflammation caused by rosacea-induced meibomian gland dysfunction. I use a combination of advanced treatments like IPL and meibomian gland expression and supplements. I needed to add something to my regime to control inflammation during a severe flare up. Sea berry has worked well as an add-on. My inflammation is now under control most of the time, and my flare-ups have been reduced. I can now work most of the day on the computer without a problem.
01/10/2023
Dr Leigh Plowman
Thank you for sharing your experience! We're so glad that you can work most of the day again on the computer, Anne Marie!
11/16/2022
Jenny C.

Australia
Eyetamins trial
At the end of 2 weeks taking the vitamins I felt improvement. I had some indigestion which ceased when I lowered the dose.
11/17/2022
Dr Leigh Plowman
Thank you for sharing your experience, Jenny!
Free Shipping over $50

Get free shipping on orders over $50

Need Express Shipping? We can expedite your shipment

Satisfaction Guarantee

Our goal is that you feel 100% Satisfied with your purchase. If not, we'll replace or refund.