Hylawipe
Regular price
$37.00 USD
Sale price
$32.25 USD
Unit price
per
Sale
Sold out
Premium Natural Eyelid Cleanser Designed for Sensitive Eyes - The TearRestore Tea Tree Eyelid Wipe combines a mild concentration of clinically proven tea tree leaf oil with premium moisturizing compounds. Eyelid wipes plus hydrating skin care compounds. Formulated to effectively clean the eyelids, soothe irritation, and leave you with visibly healthy eyes.
Fast Relief For Dry, Itchy, and Irritated Eyes - Doctor Recommended Tea Tree eyelid scrub for the treatment of Dry Eye, Blepharitis, Demodex eye mites, Rosacea, dry eyes, clogged meibomian glands, eyelash mites, inflamed skin and MGD. HylaWipe eyelid wipes utilize a gentle concentration of natural tea tree to effectively cleanse crusty eyelids without irritation.
Extends Comfortable Contact Lens Wear - Calming plant extracts in the HylaWipe eyelid scrub reduce inflammation and soothe red, puffy, irritated eyes. Formulated with Green Tea Extract, Aloe, and Chamomile, the HylaWipe reduces inflammation and promotes comfortable contact lens wear. Eyelid wipe plus soothing compounds.
Award-Winning Formulation of Hydrating Compounds - HylaWipe Tea Tree Wipes include moisture boosting Hyaluronic Acid to promote water retention, effectively reducing swelling and redness while improving the appearance of fine lines & wrinkles. Developed by U.S. based TearRestore Inc, which has received national awards for product innovations and wide-spread support from top physicians.
Hypoallergenic, Preservative Free, and Salt Free - Formulated for sensitive eyes, HylaWipe eyelash scrubs provide irritation-free relief for even the most sensitive eyes. Lid scrub plus skin care. Promote healthy skin while improving the signs and symptoms of dry eyes, eyelash mites, and Blepharitis.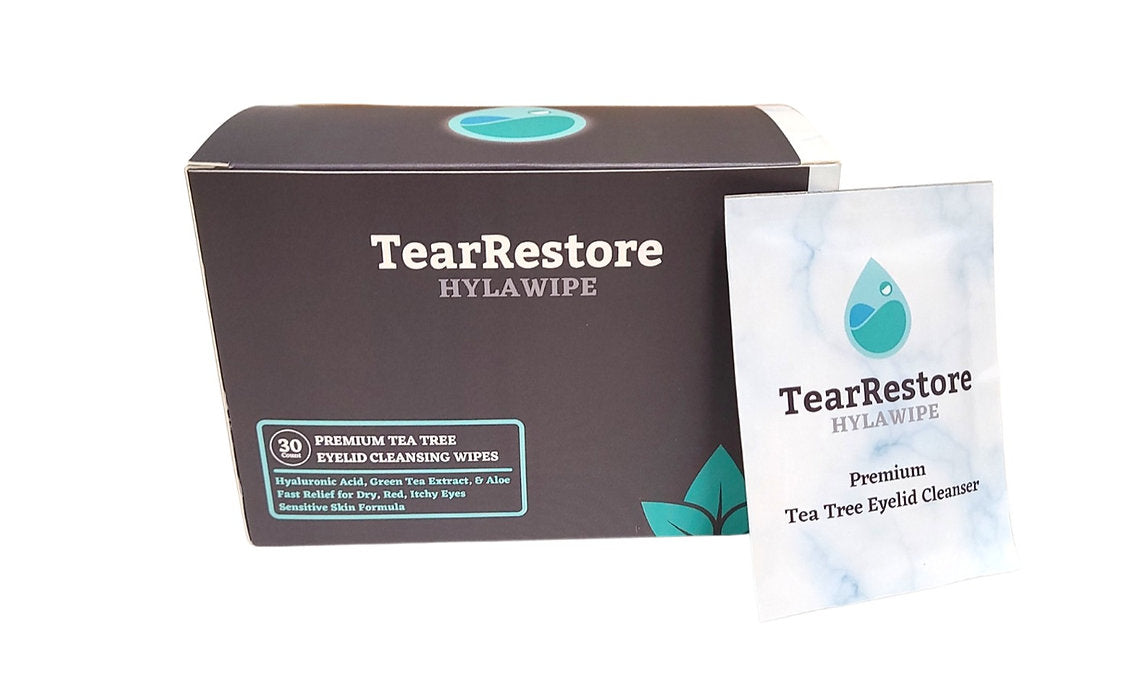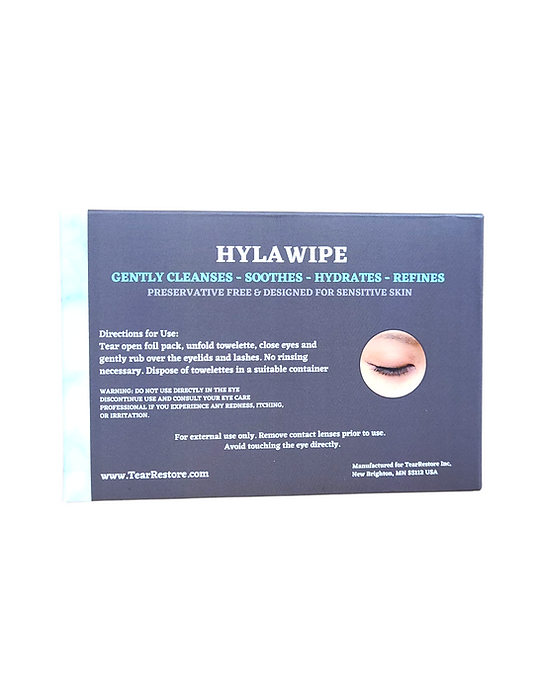 Free Shipping over $50

Get free shipping on orders over $50

Need Express Shipping? We can expedite your shipment

Satisfaction Guarantee

Our goal is that you feel 100% Satisfied with your purchase. If not, we'll replace or refund.