Zocular- ZocuWipe
Regular price
$65.00 USD
Sale price
$49.99 USD
Unit price
per
Sale
Sold out
Get immediate and long-lasting results with ZocuWipe™ . Contains patent-pending Zokrex platform with activated okra complex. The power of okra is now in the palm of your hands.
There are a number of conditions that can impact the health of your eyelids. Some people experience allergic reactions from debris that gets caught in their eyelashes, and some experience chronic eye infections or blepharitis, an inflammatory eyelid disease. Even excessive "eyelash gunk" can become a problem.
Many products are available that use harsh, artificial chemicals to cleanse the eyelids. But only Zocular® uses the natural healing power of okra extract to improve eyelid health and leave your eyes feeling clean and refreshed.
The ZocuWipe is a cleansing towelette for your eyelids and lashes. Each box contains 30 individually wrapped wipes. When used daily, ZocuWipes keep your eyes clean of oil, dirt, and other debris. They also soothe the symptoms of eye infections and blepharitis.
Zocular® products use our unique Zocusome micelles, which are infused with okra extract and gently clear away residue on your eyelids. Though the micelles should not come in direct contact with your eye, they can stay on your skin; no rinsing is required.
ZocuWipes should be used as follows:
Open the package, unfold a single towelette into a rectangle, and wrap it around your fingers. Make sure you remove any moisturizer, makeup, or mascara around your eyes before using ZocuWipes.

Close your eyes and scrub lightly and horizontally along the eyelash line for 10-15 seconds. Tiny white spots of foam should start to form. These are the Zocusomes.

Flip the towelette over and use the other side to scrub your other eye.

There is no need to rinse once the process is done. Proceed with your normal skin care regimen.
ZocuWipes have helped countless people with dry, irritated, or infected eyelids. Try them for yourself and see what a difference they can make.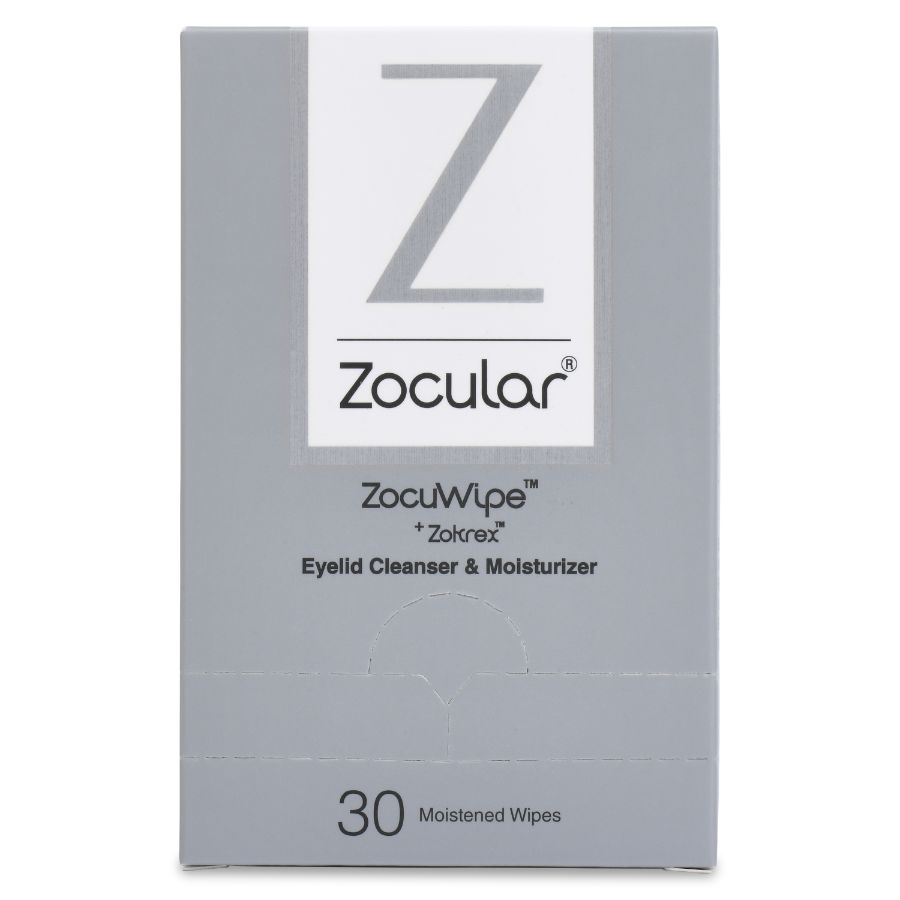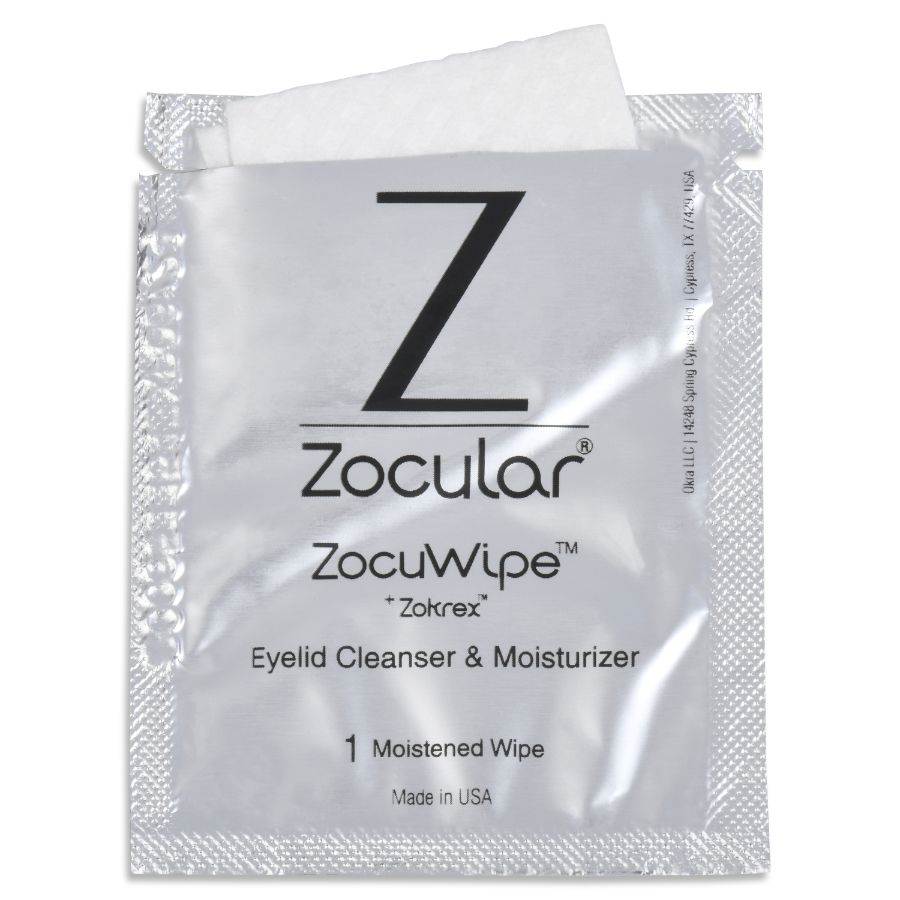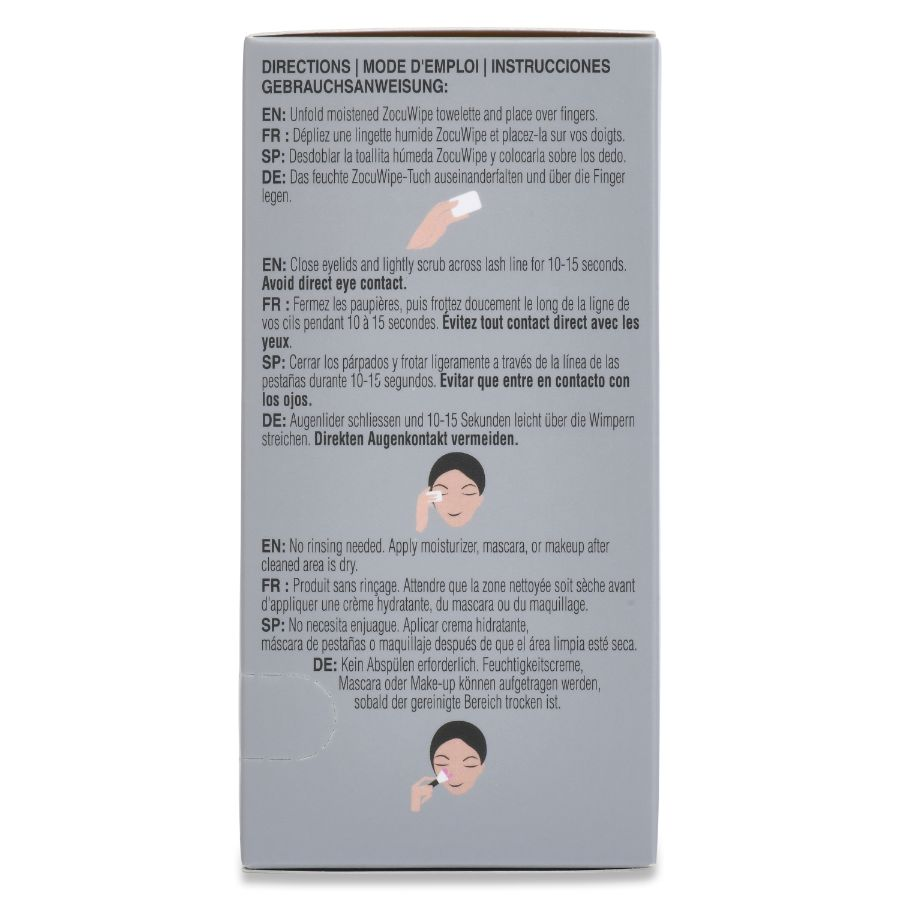 Customer Reviews
Dry eyes with Zocular
Zocular is life-changing for me. My eyes are cleaner, shiny and less red. I hardly ever have the feeling of insect bites caused from dryness.
Free Shipping over $50

Get free shipping on orders over $50

Need Express Shipping? We can expedite your shipment

Satisfaction Guarantee

Our goal is that you feel 100% Satisfied with your purchase. If not, we'll replace or refund.